212(h) Waivers for Immigrants Convicted of Certain Crimes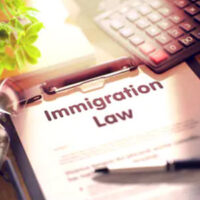 We have written in the past about the many kinds of crimes that can keep immigrants from obtaining important visas, green cards or other documentation. However, many are not aware that in very limited circumstances, there are waivers for people who have been convicted of certain crimes, which can allow them to remain in the country or otherwise can avoid negative repercussions from such convictions.
The 212(h) Waiver
One such waiver is known as a 212(h) waiver. If an immigrant is inside the country physically, but not legally because of a prior criminal conviction, the 212(h) waiver can be of assistance. The waiver is available to anyone who has been convicted of any of the following crimes:
A sole conviction for possessing less than 30 grams of marijuana
Prostitution, or solicitation of prostitution
Conviction of any two offenses where the aggregate sentence is five or more years
Any crime that involves what is known as moral turpitude
If there has been any conviction under any of these provisions, the waiver will allow the immigrant to keep their current immigration status, which could be enough to avoid deportation. Like most immigration provisions, there are a few requirements:
If the convictions occurred 15 or more years ago, the immigrant can show that they are rehabilitated, and demonstrate that allowing the immigrant to remain in the county, or obtain whatever visa or green card the immigrant is applying for, would not be contrary to the safety or welfare of the country.
A showing that denying admission (or making any similar adverse immigration decision) would lead to "extreme hardship" for the applicant's spouse, son, daughter or parent, so long as they are U.S. green card holders. "Extreme hardship" usually includes conditions in the immigrants' home country, the financial impact of having to leave the United States, and any health conditions which would be unlikely to be properly treated in the immigrants' home countries.
If the applicant's spouse or parent is a green card holder, and can show that they have suffered extreme cruelty, a battered child petition or petition under the Violence Against Women Act can be filed.
In most cases, even if all the requirements are met, it is still up to the discretion of the judge whether or not to grant the waiver.
Violent Crimes
As you may imagine in any crimes that may involve violence, it will be much harder to obtain the waiver. In fact, the law specifically states that with violent crimes, the applicant must show that denying the visa or denying admission would result in "exceptional and extremely unusual hardship."
Contact the Palm Beach County immigration attorneys at Devore Law Group to help you with your immigration questions and problems.
Resource:
ilrc.org/sites/default/files/resources/waivers_under_212h_dec_2019-final.pdf
https://www.devorelawgroup.com/ice-is-back-to-arresting-immigrants-again/