Can You Emigrate to the United States as a Farm Worker?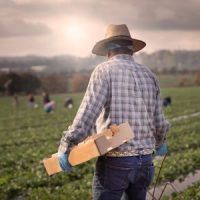 The United States has a well-known shortage of farm workers, and shrewd immigrants can take advantage of this. If you're wondering whether it might be easier to emigrate to the United States to fill this in-demand job, you might be pleasantly surprised to learn how seamless the process can be. In fact, the United States is actively encouraging farm workers to move to the United States with temporary visas and other incentives.
House Lawmakers Fight to Give Farm Workers Temporary Visas
On June 30th of 2023, it was reported that House lawmakers had reintroduced a bill that would give farm workers temporary work visas in the United States. This was in response to growing concerns about a farm worker shortage throughout the nation. Known as the Farm Workforce Modernization Act, this bill was first passed in 2021 but encountered issues when moving through the Senate.
Essentially, this bill would update the existing H-2A agricultural guest worker program, providing employers with more flexibility and giving workers more protection under US law. Crucially, it gives farm workers the option to earn legal status through continued agricultural employment. This means that although this visa program is meant to give farm workers temporary legal status, it could potentially lead to permanent residency and citizenship for eligible individuals.
Speaking about the bill, Jim Costa stated:
"Providing a path to legal residency for the men and women who work to put food on our dinner tables is long overdue. California's farming communities have dealt with worker shortages for years, a problem that got worse during the COVID-19 pandemic. These workers feed Americans and deserve a path to legal residency."
 The H-2A Temporary Visa Program Explained 
Even if this bill does not pass once again, individuals can still take advantage of the H-2A program as it is written. Currently, this visa only applies to seasonal agricultural work. For example, a farm may hire H-2A visa applicants during harvest season. In order to be eligible for this program, employers must also show that there are not enough US citizens who are able, willing, and qualified to carry out the needed work.
In addition, employers must show that hiring these temporary agricultural workers would not affect the wages and working conditions of US citizens carrying out similar work. It is these additional requirements that the aforementioned bill may reduce or eliminate, encouraging farm employers to hire seasonal workers with less red tape. In some cases, workers would have the right to pursue more permanent employment opportunities instead of seasonal work under the new legislation.
Where Can I Find a Qualified, Experienced Immigration Attorney in Florida? 
If you've been searching for a qualified, experienced Palm Beach County immigration attorney, look no further than the Devore Law Group. Over the years, we have helped numerous immigrants approach their new lives in the United States with effective strategies. If you'd like to learn more about temporary visas, in-demand jobs, and other options, book a consultation with us today.
Sources: 
uscis.gov/working-in-the-united-states/temporary-workers/h-2a-temporary-agricultural-workers
lofgren.house.gov/media/press-releases/bipartisan-members-reintroduce-farm-workforce-modernization-act-2023