Biden Makes it Easier for Central Americans to Enter the US: But Will They Pass the New English Test?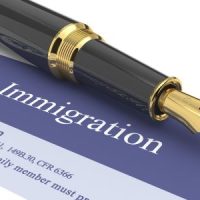 In many cases, the United States makes it easier for some immigrants to enter the United States while making it more difficult in other respects. A new program from the Biden administration would theoretically make it easier for Central Americans to come into the nation legally, but a simultaneous change to the mandated English test could pose increased challenges for these very same workers. So how might this affect your immigration journey, and what kind of English skills do you need to pass your citizenship test?
New Immigration Paths Available for Central Americans
 On July 7th, the Biden administration announced that it had established a number of new pathways to citizenship for Central American and Colombians. The program then started on July 10th, and it now allows a number of eligible migrants to fly directly to the United States and acquire work permits. Note that this only applies to migrants with relatives who are US citizens – and these citizens must have filed visa applications on behalf of their Central American relatives.
The goal is to discourage migrants from attempting to cross the border illegally – an issue that has taken the spotlight in recent years and months. The Biden administration is currently facing criticism for its handling of the border crisis – including from potential presidential candidates eyeing the 2024 elections. According to official estimates, about 4,000 people cross the border illegally every day in the United States.
Under this new program, relatives of migrants could potentially circumvent the backlogged immigration system and facilitate a faster, easier pathway for Central American migrants in their families. Not only that, but eligible migrants could immediately start working in the United States – potentially contributing to the economy. A total of 70,000 Central Americans could qualify, including those from Colombia, El Salvador, Guatemala, and Honduras.
New Challenges for Those Taking the English Proficiency Test 
At the same time, US authorities have announced new changes to the English Proficiency Test that all prospective new citizens must pass. This may include a new speaking section, perhaps involving the verbal description of photos depicting various activities. For example, an immigration officer might show an applicant a picture of a person taking a dog for a walk. The applicant would then have to describe that scene. Many have stated that this would be more challenging than the verbal section of the current test, which involves answering questions that the applicant has already answered in their paperwork.
In addition, new challenges to the civics section may be added. For example, an applicant may need to know all five major wars fought by the US within the past century rather than simply naming one single war.
With all that said, the US currently has the easiest citizenship test of all major western countries – so immigrants should probably still approach the test with a degree of confidence. Currently, 96% of applicants pass the test.
Where Can I Find a Qualified, Experienced Immigration Attorney in Palm Beach County? 
If you've been searching for a qualified, experienced Palm Beach County immigration attorney, look no further than the Devore Law Group. We know that new changes in America's immigration system can be challenging to wrap your head around – including more difficult tests and new pathways to citizenship. During a consultation with us, you can assess how these new changes impact your unique situation. Reach out today, learn more about your immigration options, and get started with an effective action plan.
Sources: 
cbsnews.com/news/immigration-colombia-central-america-border-us-relatives-border-crossings/
voanews.com/a/us-citizenship-test-changes-coming-raising-concerns-for-those-with-low-english-skills/7169532.html