What Is A Family-Based Green Card?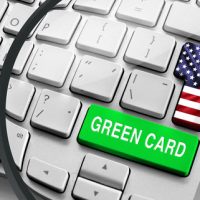 Although plenty of single people cross the border, there are also many families who want to settle in the United States and begin a new life together. Sometimes, one member of the family goes to the United States first and establishes themselves with a career and an understanding of the culture, paving the way for their family members to follow behind. If your family is attempting to settle in the United States and set the groundwork for a long future in the nation, you should probably consider the family-based green card. But what exactly is this type of green card, and what are its benefits?
If you've been considering how to get your family settled in the United States, you should always get in touch with a qualified, experienced immigration attorney. While internet research can certainly be helpful, it can't provide the same level of targeted, personalized legal advice as an immigration attorney. For this type of one-on-one guidance, you'll need to book a consultation and speak with a lawyer directly. Fortunately, this has never been easier – and there are plenty of legal professionals waiting to assist you in Palm Beach County.
Family-Based Green Cards Explained
 There are two categories of family-based green cards:
Family preference categories
Immediate relative green cards
If you're a family member with a US citizen as a relative, you must get your relative to sponsor you. This relative must be at least 21 years of age with a permanent resident card or citizenship. The sponsor must file Form I-130, while the foreign national must file additional paperwork and navigate through the "consular processing" or "adjustment of status" system. In theory, it should take six months for the foreign national to receive their green card after approval.
The Definition of an Immediate Relative
 Under US immigration law, "immediate relatives" are classified as the following:
Spouses
Widows
Same-sex couples
Unmarried people with one US citizen parent
Parents of US citizens (as long as the child is over 21)
Stepchildren and stepparents
Parents and children related through adoption
Fiancés are handled slightly differently, as they need to apply for a temporary K-1 fiancé visa. When the marriage is complete, they can then file Form I-485 to be granted "conditional permanent residence." Eventually, this will be changed to permanent residence.
Family Preference 
If your family members aren't classified as "immediate relatives," you may still have a chance to sponsor them as they pursue citizenship. This includes family members like sisters and brothers.
Enlist the Help of a Qualified Attorney Today
 If you've been searching for a qualified, experienced Palm Beach County immigration attorney, look no further than Devore Law Group. Over the years, we have helped numerous immigrants and migrants – including entire families. We know that it is very important for new Americans to bring family members across the border as quickly as possible. With our help, you can approach this situation in the most efficient, confident manner possible.
Sources: 
economictimes.indiatimes.com/nri/migrate/an-introduction-to-americas-family-based-green-cards/articleshow/93518970.cms
washingtonexaminer.com/restoring-america/fairness-justice/us-wants-less-immigrants-for-the-first-time-in-almost-a-decade-poll