What Happens When ICE Goes After Your Employer?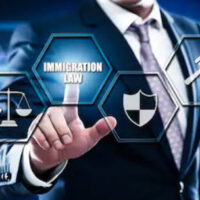 Many businesses do whatever they can to try to skirt and avoid immigration laws. Some do it for their own benefit, to avoid taxes or regulatory paperwork, or to continue to employ immigrants working for less than what the business would otherwise have to pay U.S. citizens. Others do it as favors to workers on staff who may not have the proper paperwork.
A Notice of Intent
Regardless of why, a business—and possibly, your employer, if you are working illegally—could at any time be served with what is called a Notice of Intent (NOI) from Immigration and Customs Enforcement (ICE). An NOI is notice to the business that the government intends to come in and inspect the government's paperwork to ensure that the business is acting in full compliance with all immigration laws.
Of course, in many cases, inspection of this paperwork can lead ICE to the personal information for those who are in the country illegally.
Fines and Penalties
Before you believe that your employer would never "give you up," or knowingly comply with any government inquiry, be aware that the government can assess severe fines on businesses that do not cooperate, can shut down the business, and can even criminally prosecute those who do not assist the government. In 2017, one company found to be employing undocumented immigrants was fined an astounding $95 million.
ICE can target any business, but traditionally focuses on businesses that have historically employed immigrants, such as the service industry, construction, retailers, or manufacturing sectors. Many times, NOIs come as a result of tips, which often come from disgruntled employees seeking to get back at their employer and expose their illegal activities.
Who Gets NOIs and How to Prepare
Remember that NOIs are not just served on large multimillion dollar companies. They can be served on small businesses that are owned by everyday consumers as well. If you own a business and you are concerned about receiving an NOI, you may want to make sure your paperwork is in order before you receive an NOI. All I-9s should be present, as well as E-verification of all social security numbers for employees.
Even if a business is technically in compliance with immigration policies, if paperwork is not filled out completely and properly, fines can result. Make sure there are no expired work authorizations or fraudulent documents. All social security numbers should be present and should match up. Simply ignoring immigration issues or problems will not excuse penalties or fines.
Acting now, before an NOI is served, can also help you defend against any penalties or fines, by saying that you acted in good faith.
Get immigration law help if you are concerned that ICE is looking into your employment status, or if you employ immigrants and want to make sure they are safe. Contact the Palm Beach County immigration attorneys at Devore Law Group to help you with your immigration questions.
Resource:
uscis.gov/i-9-central/retain-store-form-i-9/inspection/inspections
https://www.devorelawgroup.com/getting-a-parent-into-the-u-s/