Getting a Parent into the U.S.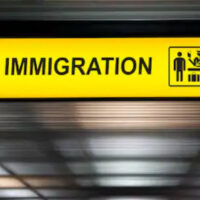 Let's say that you are here in the United States lawfully, and on your way to citizenship. Congratulations. You have already overcome a tremendous hurdle. Except there is still one problem: Your parents want to join you here in America. Maybe they are already here illegally, or maybe they are overseas. Either way, there are a few ways to get parents into the United States lawfully.
For Parents Who Are In America
A common situation is where someone's parent has entered the United States with a non-immigrant visa, for example, for just a temporary visit. Later, you want to change your parent's immigration status to allow them to remain here. To do this, you would need an adjustment of status, to change their status to that of a permanent resident.
You (as the adult child) will have to fill out forms where you verify that you have the ability to financially care for your parents while they file their application, and until they become a citizen. Your parents can also fill out forms that will allow them to work while they are awaiting a decision on their status.
Remember that while parents are waiting for what is known as a travel permit, they cannot leave the United States. If they do, their application will be considered abandoned.
If the application is successful, parents will receive a 10-year green card which will need to be renewed before the expiration of that time period.
Parents Outside the United States
Parents living outside the United States don't need an adjustment of status, but rather need to complete their entire application from where they are. The adult child still will need to show the ability to financially care for the parents. The parents will eventually be interviewed at the U.S. Embassy in their home country.
Parents living outside the U.S. will need to show some additional documents, such as proofs of civil marriage certificates. If you were born out of wedlock, your father will also have to show your birth certificate showing your name on it and your father's name, and evidence that there was a bond between you and your father before you reached the age of 21 or before you were married.
If successful, parents will receive a 6 month green card allowing them to enter the United States. They can then apply to change their status to one that is more permanent from that point.
Other Ways
Remember that there may be alternative ways to get parents into America. For example, if for some reason parents will face persecution at home to the extent that they qualify for asylum, or if they have financial means that qualify them for certain types of investment and business related visas, they will have additional options at their disposal.
Get immigration law help for you and your loved ones. Contact the Palm Beach County immigration attorneys at Devore Law Group to help you with your immigration questions.
Resource:
uscis.gov/family/family-us-citizens/bringing-parents-live-united-states-permanent-residents
https://www.devorelawgroup.com/states-look-to-ban-ice-from-arresting-immigrants-in-courthouses/