Supreme Court Says Immigrants Have Burden Of Proof In Hardship Cases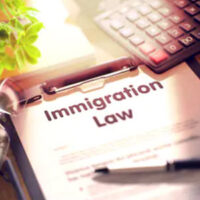 We recently wrote about the ability of an immigrant to apply for a hardship waiver, which would avoid deportation where the deportation would cause a severe and undue hardship on relatives. But the ability to get a hardship waiver isn't available to people who are not already in the country legally, nor to people who have been convicted of a crime of moral turpitude.
Moral Turpitude or Not?
The US Supreme Court recently heard a case where a man was seeking a hardship waiver. The problem is that he had been convicted of a crime, albeit one where it wasn't clear whether the crime was one involving moral turpitude. The man had originally entered the United States without permission over 20 years ago.
The man presented a false social security card when applying for a job. He was convicted of what the State of Nevada calls "criminal impersonation." That law has some provisions which would constitute moral turpitude, which would prevent the man from getting a hardship waiver, but some provisions that would not. It was unclear which part of the law the man was convicted under. He was convicted but received no jail time.
Whose Burden Is It?
The question before the court was one of burdens. Does the government have to prove a crime that an immigrant was convicted of is one of moral turpitude? Or does an immigrant have to prove that he or she was not convicted of a crime of moral turpitude?
The Supreme Court found against the immigrant. The Court even acknowledged that it may be difficult for an immigrant to show, as here, what part of a muti-part law the immigrant violated. But the ambiguity in a law, or the prosecution's failure to specify what part of a law an immigrant was convicted under, should not constitute a benefit to the immigrant, according to the court.
The Court also noted that an immigrant is free to present all evidence that he or she has, to demonstrate that a conviction is not one of moral turpitude when in immigration court.
Some Justices Disagreed
Other justices expressed concern. They felt that poorly or vaguely written laws which don't interpret whether a crime is one for moral turpitude, could end up hurting immigrants, and leaving them to prove something unprovable.
The ruling means that if an immigrant is convicted of a law that could be interpreted either way- as moral turpitude or not-that the immigrant will have to show that the law was not one of moral turpitude. Many times, this could require the immigrant to get court documents that are not clear, or which may not exist at all. Deportation hardship relief will not be available if the immigrant can't do this, in the face of an unclear criminal law statute.
We can help you with your deportation or immigration law case. Contact the Palm Beach County immigration attorneys at Devore Law Group today for help.
Resource:
scotusblog.com/2021/03/justices-reject-immigrants-bid-to-seek-relief-from-deportation/