Could Court Appointed Lawyers Be Coming To Immigration Courts?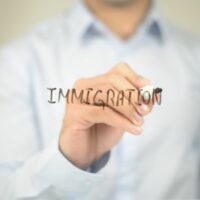 We have often written about how unfair it is that immigrants with low incomes still do not have access to good, qualified immigration lawyers, outside of programs that may provide free legal services to them—programs that are often overworked and understaffed. Despite the fact that in immigration, people's lives and liberty are often at stake, immigrants usually are left to fend for themselves in a complex and harsh legal immigration system.
New Order May Eventually Require Legal Representation
But many are hopeful that will end, and that immigration law will be treated like the criminal system, where those without money can have a lawyer appointed to them.
That's because the President recently signed a memorandum to help lower income people fight things like foreclosures or evictions, or other matters in civil courts. Notably, the president also said that he is hopeful that his memorandum will eventually be expanded to help unaccompanied children seeking asylum get free representation.
Its a rare occasion where any arm of government has provided for free legal representation in non-criminal matters.
Hiring an Attorney
Of course, like anyone, any immigrant has the right to hire an attorney. And they should—according to one study, immigrants seeking asylum were five times as likely to have their request granted when they were represented by an immigration attorney. Despite this, as of 2017, about 20% of asylum seekers were unrepresented (note that figure only represents asylum seekers–not everybody that went to immigration court for any other immigration law matter).
But many do not have the means—especially if they are seeking asylum, fleeing from oppression or violence. They are left to defend themselves, up against government lawyers who understand immigration law, and often, they don't even speak English.
Crossing the border illegally is a crime, and people who can't afford a lawyer in criminal court do get an attorney appointed for them. But it's only a misdemeanor—good for the immigrant that it's not a felony, but a misdemeanor doesn't trigger the constitutional right to have an attorney appointed for you.
It is especially bad for children crossing the border by themselves. They are completely unable to navigate the system, and are usually left to be sent back to dangerous conditions in their home country.
Non-Lawyer Representation?
Because immigration court is an administrative law court, technically, someone does not have to be a licensed lawyer to represent someone else. Of course, it's always better to have a qualified immigration attorney representing you in immigration court.
But at the very least, for immigrants who can't afford anything else, many speculate that perhaps trained non-lawyers, like paralegals, could be used to represent asylum seekers in immigration courts.
Non-lawyer representatives do need to show that they have adequate skills to navigate the immigration system to represent someone else, and it is possible that the government is leaning towards a system of training such people.
Contact the Palm Beach County immigration attorneys at Devore Law Group today for help if you have to go to immigration court.
Resource:
trac.syr.edu/immigration/reports/491/