Immigrants May No Longer Be Called "Aliens" In The Future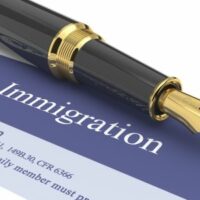 What's in a word? How much information can a single word convey or sway public opinion? When it comes to immigration and immigration law, it means a lot. Which is why the new presidential administration is making an attempt to change the use of one, commonly used (in immigration law) word: alien.
What "Alien" Implies
The word alien implies different. Foreign. Somebody—or something—that is not like the rest of us.
That's why there is now a push to stop using the word alien when discussing illegal aliens. Proponents, including the current government are pushing to eliminate the use of the word. They contend that using the word "alien" makes it easier to lock immigrants up, deprive them of rights, and to do other things that harm, or dehumanize them. Some even consider it a slur.
To demonstrate the power of words, and the way that terminology shapes immigration law opinions, even the Associated Press—the style guide for writers that is used and followed by most major media outlets—stopped using the term "illegal immigrants," as people cannot be illegal, only actions.
Many States Have Stopped Using the Word
The objectionable nature of the word has long been recognized by various states, who have already passed laws or taken measures to stop using the word when describing human beings.
California was one of the first states to cease using the word in its laws, abolishing its use in its labor laws in 2015.
New York City removed the word from its city codes , state laws, and ordinances last year. In fact, New York banned the use of the word "illegal alien," if the term is being used to humiliate or demean someone. Penalties for using the word in such a way, can reach $250,000. The measure was taken to stop the discrinination of all foreigners, whether in the country legally or not.
Colorado is also now pushing to replace the word with the term "undocumented immigrant."
Word is Used in the Law
Technically, US laws do use the word, defining an "alien" as any person who is not a United States citizen. Because the word appears numerous times in US laws, some people still defend the use of the word. In fact, the US attorney general in 2018 instructed prosecutors to use the word to describe anyone in the country illegally.
The general public has also picked up on the connotations of the word. In 2017, when the government advertised a hotline for victims of crimes committed by "aliens," the call center was flooded with people calling with prank reports of crimes being committed by actual outer space aliens.
A qualified attorney can help you navigate complex immigration laws. Contact the Palm Beach County immigration attorneys at Devore Law Group today with any questions that you may have.
Resources:
cnn.com/2018/07/24/politics/justice-department-illegal-aliens-undocumented/index.html
cnn.com/2019/10/01/us/nyc-illegal-alien-discrimination-guidance/index.html