How Might The Midterms Affect US Immigration Law?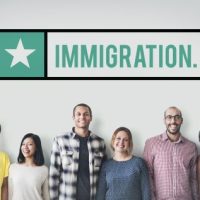 The midterms are coming up in the United States, and the results could affect US immigration law in a major way. To understand how these changes might manifest, we first need to take a step back and examine the different philosophies on both sides of the argument. One side seems much more favorable to migration – including that of the illegal variety. The other side seems much more concerned about migration and seeks to put more cautious policies into place.
Gavin Newsom's Approach 
On September 27th, it was reported that Gavin Newsom had signed Assembly Bill 1766 into law. This bill expands eligibility for state ID cards, potentially giving many illegal immigrants the ability to get drivers licenses or other forms of identification normally only issued to citizens. Also known as "California IDs for All," this law reflects the types of changes that might occur in the US legal system if the results of the midterms are more favorable to politicians like Newsom.
Josh Hawley's Approach 
On the other end of the spectrum, Senator Josh Hawley recently introduced legislation that would allow border states to implement what the Kansas City Star referred to as "aggressive deportation operations." The September 27th article also pointed out that the legislation has no chance of actually becoming law, and that it is intended to serve more as a political message rather than anything else. The Star also reports that this is all part of the leadup to the midterms. Essentially, Hawley's bill would allow local police departments to treat illegal migrants like trespassers – charging them with crimes under their local jurisdiction.
This comes at a time when Republican governors are making headlines for shipping migrants to Democratic states. The message is clear: "If you support immigration, you take them."
Biden's Immigration Legislation 
While Biden has removed many of the Trump-era policies, he is struggling to implement his own to replace them. On his first day in office, Biden introduced game-changing immigration legislation. However, that legislation never really made much progress, with Congress failing to pass anything the President has introduced.
The outcome of the midterm is a subject for another article. But it's clear that immigration is a major talking point as we approach this election, and the outcome could change US immigration law to a considerable extent.
Enlist the Help of a Qualified Immigration Attorney Today 
Whatever your situation might be, the midterms may affect your immigration goals going forward. If you'd like to formulate a winning action plan and adapt to these coming changes in the most efficient way possible, you need to get in touch with a qualified, experienced Palm Beach County immigration attorney. Devore Law Group has been assisting immigrants in the Palm Beach County area for many years, and we know that moving to the United States can feel like a daunting task. But you're not alone in this battle, and we can guide you towards a positive outcome. Book your consultation today to get started.
Source:
kansascity.com/news/politics-government/article266420731.html