How And When To Renew A Green Card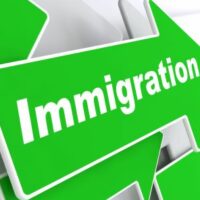 When talking about green cards, the focus is usually on how to get one. Many people don't focus on how to renew them, and when to renew them. Even though a green card gives you permanent residency doesn't mean the Green Card is permanent. It still has to be renewed.
The Expiration of Your Green Card
You notice that your Green Card has an expiration date on it.
That expiration date may mean it's time to renew, but rest assured that just because the card has to be renewed, doesn't mean you are no longer a lawful resident—you still are. Think of a Green Card a little bit like you'd think of a driver's license—just because it expires doesn't mean you aren't legally allowed to drive. However, the expired license can cause you problems if you ever need to show ID, and it technically could be a traffic violation for driving on an expired license.
You need to renew your Green Card when any of the following occurs:
Your Green Card will expire in the next six months (or it has expired).
You were issued a Green card that is valid for ten years, but it was issued to you before you turned 14, and the card is or will be valid until after you turn 16.
There is some inaccuracy on the card, like an inaccurate name, or date of birth—something that identifies you and who you are
You are going from commuter status to permanent resident status, or vice versa.
Of course, if there is other inaccurate information, such as an outdated address, you also may want to replace the card, even if it doesn't expire and even if your other identifying information is technically correct. You don't want an inaccurate address to cause you headaches should it need to be used for ID purposes.
Renewing Your Card
Thankfully replacing your Green Card isn't difficult, and you can do it online. If you are renewing your Green Card (as opposed to just replacing a lost or damaged one), you'll need to fill out an I-90 form. Conditional permanent residents seeking to have those conditions removed, will need to fill out a Form I-751.
You'll need a copy of your old, expiring card, and you may need some additional documents if you're replacing the card because it was lost. A government ID, passport, employment information, or other information may need to be provided, in order to replace a card that you don't physically have in your possession.
Most renewals have no problems. But if for some reason you are denied, you'll need to file a motion to reconsider the decision by immigration. You'll need to provide evidence, and state the facts that you want immigration to consider, if and when they re-review your renewal application.
Contact the Palm Beach County immigration attorneys at Devore Law Group today for immigration law help, whether you have a big or relatively minor immigration law problem.
Resource:
uscis.gov/green-card/after-we-grant-your-green-card/replace-your-green-card