Can You Immigrate To The United States After Committing War Crimes?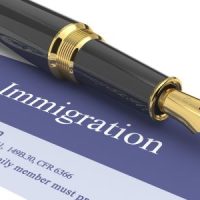 Many people flee to the United States from war-torn regions, perhaps after being forced to serve in foreign militaries. It's almost impossible to disobey direct orders when you're in the military, and many asylum seekers have carried out terrible acts while serving in these foreign militaries. But can these "war crimes" really make you ineligible to emigrate to the United States? What if you were forced to carry out these acts? What happens if the United States immigration authorities find out about your military past?
A Crime of Moral Turpitude May Prevent You From Emigrating to the USA 
The first thing you need to know is that the United States tends to reject immigrants who have been convicted of crimes involving "moral turpitude." These are especially egregious acts that usually involve violence or organized crime. A war crime is certainly an example of moral turpitude.
What if I Was Just Following Orders? 
That being said, individual soldiers are almost never prosecuted for carrying out war crimes due to the "Superior Orders" section of the Rules of Land Warfare. Under paragraph 347 of these laws, it clearly states that:
"Individuals of the armed forces will not be punished for these offenses [violations of the customs and laws of war] in case they are committed under the orders or sanction of their government or commanders."
 In other words, the claim that you were "just following orders" is a legitimate defense in this situation – but only if you were truly a subordinate soldier and not a senior commander who was "calling the shots."
Why You Should Always Reveal Your Involvement in War Crimes 
Regardless of what you experienced, it's always a good idea to reveal any past military service and involvement in incidents that could be construed as war crimes. Keeping these incidents secret could seriously backfire on you.
On January 31st of 2023, it was revealed that a man had been charged with immigration fraud after lying about his involvement in the Yugoslav Wars. This individual stated that he had served in the Yugoslav Army from 1988 to 1989, omitting his service in the Serb Army of Krajina from 1991 to 1995. In 1998, he was convicted of a war crime in absentia. This war crime apparently involved the defendant targeting a civilian who had shaken hands with Croatia's former president. The civilian was never seen alive again after being taken away by the defendant, although his remains were later uncovered in a mass grave.
Where Can I Find a Qualified, Experienced Immigration Attorney in Palm Beach County? 
If you've been searching for a qualified Palm Beach County immigration attorney, look no further than the Devore Law Group. We know that immigrants to the United States may be coming from war-torn regions. If you were ordered to carry out war crimes as part of your military service, you may still have the ability to settle in the United States and begin a new, safe life. Book your consultation today to discuss your unique situation and get started with an effective action plan.
Sources: 
historians.org/about-aha-and-membership/aha-history-and-archives/gi-roundtable-series/pamphlets/em-11-what-shall-be-done-with-the-war-criminals-(1944)/are-superior-orders-a-legitimate-defense#:~:text=You%20will%20find%20in%20paragraph,of%20their%20government%20or%20commanders.
hstoday.us/subject-matter-areas/customs-immigration/ohio-man-charged-with-immigration-fraud-for-concealing-war-crime-charge-in-croatia/