Can An Undocumented Immigrant File For Bankruptcy?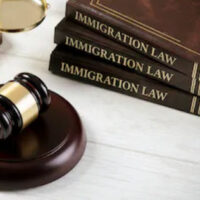 Like everybody else, many immigrants fall on financial hard times. But unlike US citizens, many may find access to the avenues to relieve financial pressure quite limited. One of those avenues, which is normally available to US citizens, is bankruptcy. Can an illegal or undocumented immigrant file for bankruptcy in a US court?
Most people in the country illegally will not opt to file for bankruptcy, for fear of being caught. Although bankruptcy does not require a thorough, in-depth analysis of your citizenship status, it could open the door to questions that could lead to deportation, and thus, many immigrants stay away from bankruptcy.
Filing is Allowed
Still, there is technically nothing in the US bankruptcy laws that forbids an illegal immigrant from filing bankruptcy. The bankruptcy laws that define who is and who is not a debtor, say nothing about citizenship. All that is required is that the person filing own property in the US, or live in the US. You must have lived within any state for at least 90 days before you file for bankruptcy.
Filers do need to show identification, so either a social security number or an ITIN that is issued by the IRS will be needed.
Can You be Caught and Deported?
So on the surface, yes, illegal immigrants can file for bankruptcy. But should you?
In most cases, neither the bankruptcy trustee or the court have any interest in your immigration status, or in reporting filers to Immigration and Customs Enforcement. Still, bankruptcy is a public record. That means that the things you file could be accessed. If a debtor were to not have proof of ID, or a social security number or personal IRS ID number, these could set flags off with immigration officials.
Usually, immigration will avoid making arrests or deportation actions in sensitive areas, like schools or places of worship, but a courthouse is a gray area, and not completely off limits to immigration officials. Before any undocumented immigrant files for bankruptcy, he or she should consult with an immigration attorney, to ensure that they are not putting themselves at risk by filing.
Bankruptcy Fraud
Sometimes, someone filing for bankruptcy will be found to have committed fraud. This fraud is sometimes intentional, but it is sometimes accidental, such as when a filer has used a credit card shortly before filing for bankruptcy. These kinds of actions could also affect someone's immigration status, as being actions that show negative moral turpitude.
Exemptions May Be Lost
Bankruptcy does provide for exemptions. Exemptions allow people filing for bankruptcy to keep certain kinds of property.
The problem for immigrants is that exemptions are based on residency. Many exemptions, such as Florida's generous homestead exemption, have been held to be inapplicable to those who have not obtained a green card. Filers with temporary visas have also been held ineligible to file for bankruptcy.
That means that illegal immigrants may stand to lose property that those here legally would otherwise be allowed to keep.
Contact the Palm Beach County immigration attorneys at Devore Law Group today for advice about how the decisions you make could affect your immigration status.