How Does A DUI Affect Your Immigration Status?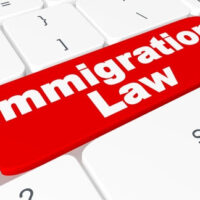 No matter who you are, getting a DUI is a bad thing. You may already know the criminal penalties for being convicted of any kind of DUI. But what about immigration penalties? How does getting a DUI affect your status in the country?
One DUI
Let's start with an obvious point. If you are in the country illegally to begin with, and you get arrested for DUI, along with any criminal penalties, you can expect to be deported.
But, as we have written about, certain crimes can also get you deported, even if you are otherwise in the country legally. Those usually include what are known as crimes of moral turpitude. On its own, DUI is not a crime of moral turpitude, and getting  DUI usually will not affect your immigration status. That is, not if it's only one, and it's "just" a DUI.
Multiple DUIs and Associated Crimes
However, last year Immigration policy changed to reflect that multiple DUIs together (that is, two or more)  can be considered crimes of moral turpitude or poor character. In other words, one is OK (for immigration and deportation purposes), but multiple DUIs can get you deported.
Any DUI that includes another crime, could also lead to deportation. For example if someone were to commit a robbery, rape, or other felony while getting the DUI, they could be deported. Any conviction for drug crimes along with your DUI can get you deported. In fact, in those situations, you may have two crimes of moral turpitude—the DUI, and the drug possession or trafficking charges.
Even getting a DUI with a child in the car can lead to deportation.
Note that even if the crime is technically a misdemeanor isn't relevant—immigration has said that DUIs combined with these crimes can indicate poor moral character, and thus, deportation.
Revocation of Your Green Card
If you have a green card, it can be revoked after the DUI, if the circumstances dictate. You will receive a notice to appear before an immigration judge, where you will have the opportunity to argue to try to get your green card reinstated allowing you to remain in the country.
As a general rule, these DUI rules apply whether you are in the United States and face deportation, but could also bar you from being admitted into the United States if you are living somewhere else but are seeking entry into the United States.
Green card to Citizenship
Remember that even if a single DUI is not deportable in most cases, the DUI can still affect you if you have a green card, and eventually are applying for citizenship. You'll need to prove good moral character for the five yours before you apply, and the DUI can certainly be looked upon negatively by immigration officials that are reviewing your application for citizenship.
Contact the Palm Beach County immigration attorneys at Devore Law Group today for help if you are being deported or face the threat of deportation or have any immigration question or problem.