Will Marriage Allow You to Remain in the US?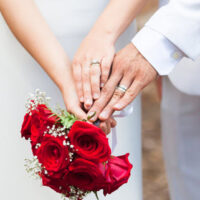 It is one of the oldest and most perpetuated beliefs in the world of immigration: simply marry someone from another country, and the non-citizen spouse will be allowed to remain here. Although there is some truth to this, it is not as easy as it may seem.
Marrying a Non-Citizen
Marrying someone from another country does not magically transform them into a US citizen. The non-citizen who is married must still apply for a green card. That means that the applicant still has to meet the basic requirements that come with any green card, such as being relatively healthy, having no criminal history, and having no history of breaking immigration laws.
Additionally, if authorities believe that the marriage is a sham—that it is solely for the purpose of gaining entry into the US—the application could be denied.
If the non-citizen gets the green card and is still married after three years, he or she can apply for permanent residency. If the marriage is no longer intact, the non-citizen can still apply, but will have to wait five years instead of three.
The marriage itself must be valid in the state that you are married in. That usually is not a problem, but make sure you are complying with state laws (getting licenses, etc) and do not just assume you have a valid, legal marriage.
If Your Fiancee is Living Overseas
What if you want to marry someone in the United States, but they are currently living overseas? The K-1 visa does allow non-citizens who are engaged to US citizens to enter the country in order to marry. The non-citizen fiancée will need to interview with the US consulate in his or her home country. If the immigration application is granted, the applicant will have six months to enter the US, and once inside the country, 90 days to complete the marriage.
Finances Matter
Unfortunately, money matters when it comes to applying for citizenship because of marriage. The US citizen will need to show that he or she can support the non-citizen spouse for ten years, and at an income level that is more than the poverty guidelines. Luckily, if the US spouse cannot demonstrate that ability, he or she can demonstrate that someone else living in the household can do so.
Do It Legally From the Beginning
It is always better to have your spouse enter the US through the proper channels, as opposed to having them enter illegally (or enter legally and overstay their visa), and then be married.
Those who are here illegally will not suddenly become legal by marrying a US citizen, and can be subject to deportation. As was pointed out in a recent article, many people whose marriage applications are approved by the US Citizenship and Immigration Services, are still being deported by ICE. In fact, some people are arrested and subject to deportation at their interviews to apply for the marriage visas.
Make sure your immigration matters are handled properly from the very beginning. Contact the Palm Beach County immigration attorneys at Devore Law Group to help you with your immigration questions.
Resource:
nytimes.com/2018/04/19/us/immigration-marriage-green-card.html
https://www.devorelawgroup.com/governments-health-insurance-rule-is-temporarily-blocked/