What Type of US Visa Do I Need to Attend a Conference?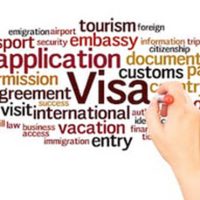 Entrepreneurs, employees, contractors, and influencers from all over the world are drawn to conferences in the United States each year. Many of these individuals may be under the impression that a simple tourist visa will be more than enough for this business trip – but this often isn't the case. Those who enter the United States without the proper visa may face legal consequences, and it's imperative that you obtain the appropriate visa based on your specific reasons for travel.
Conference Attendees Require B-1 Visas 
For the vast majority of cases, the correct visa for conference attendees is a B-1 visa. This is also known as the "business visitor visa," and it is specifically intended for people who are seeking temporary access into the nation to conduct some sort of business-related activity. The B-1 visa is usually valid for a stay in the United States of less than six months – more than enough time to attend the conference, perhaps give a presentation, and return home.
Note that the B-1 visa also applies to educational or scientific conferences. Even if you consider yourself an academic rather than a businessperson, you will still need to obtain the B-1 business visitor visa. For example, a university professor from the United Kingdom would probably need to obtain a B-1 visa in order to give a talk at an engineering conference in Miami. Even though you might consider yourself to be an academic rather than a businessperson, the conference might still be classified as a business-related activity. This is especially true if you are being offered payment in order to speak or present at the conference.
What Happens if I Attend a Conference with a Tourist Visa? 
If you attend a conference with a tourist visa, you could face a number of consequences. These include:
Deportation
Visa revocation
Entry bans
Charges of immigration fraud
This is why border agents always ask if you are traveling for pleasure or business when you enter the country. You are expected to answer truthfully, and your answer helps the border agent determine whether you have the correct visa. At the end of the day, it's worth spending a little extra time to obtain the correct visa rather than risk serious consequences. The good news is that obtaining the correct visa for your specific needs is relatively easy, especially if you receive help and guidance from an immigration attorney.
Where Can I Find a Qualified, Experienced Immigration Attorney in Palm Beach County? 
If you've been searching for a qualified, experienced Palm Beach County immigration attorney, look no further than the Devore Law Group. We know that planning a business trip might seem like a bit of a rush, but obtaining the correct visa is a step that requires extra care. Whether you're attending a conference, giving a speech, or conducting any other type of temporary business, you should strive to approach this situation in an efficient manner. Book your consultation today, and you can do just that.
Sources: 
travel.state.gov/content/travel/en/us-visas/business.html
uscis.gov/working-in-the-united-states/temporary-visitors-for-business/b-1-temporary-business-visitor