What Is An Inspection And What Happens At An Inspection?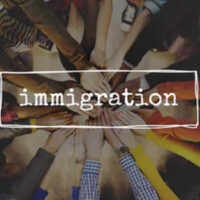 Immigrants seeking to enter the US can come into the country under a number of different programs. But when they come in, they need to submit to an inspection, so that customs knows what program the immigrant is coming into the country under, and to ensure that the immigrant in fact qualifies to enter into the country under that particular program.
What Happens at an Inspection?
An inspection is done by a customs officer. During the inspection, the customer officer will determine:
Why you are entering the United States, and under what program, and for what purpose you are seeking to enter;
What documents you must have, and whether you do have those documents
The length of time that you are permitted to remain in the United States
Whether you in fact qualify for being admitted under your stated program, or laws that you are seeking to be admitted under
If someone is entering by car, and will be driving through a port of entry, the immigrant can expect the following in addition to what is listed above:
In person questioning
Identification of everybody that is travelling with the immigrant, such as other people in the immigrants vehicle
Review of documents for everybody that is in the vehicle
Secondary Inspection
This is a basic, or primary inspection. If more information is needed, customs can make a secondary inspection. The secondary inspection will require:
An inspection of your vehicle, suitcases, bags, or other travel equipment
A search of your pockets or clothing
An online search of customs' records, and the internet
If these inspections are passed, you will be given a form I-94, and your passport will be stamped.
More Information May Be Needed
There are times where there is insufficient information at the scene of the inspection to make a determination.
If that happens, customs can ask you to return for an inspection later on. You will be able to enter the country, but you must appear at the rescheduled inspection. If not, you may be considered to be in the country illegally, which will jeopardize your ability to remain in the US, get visas, get a green card, or really get permission for anything from immigration officials in the future.
Failing the Inspection
Sometimes, problems happen at inspection, or customs officials see things they don't like. If this happens, they can deny you entry into the country.
If they do, you will be turned away at entry. You also could be placed in detention, if you are unable to immediately turn around and return home. You will be given a notice to appear in court (where it would be a good idea to have a good immigration attorney with you).
Troubles with customs and immigration officials? Contact the Palm Beach County immigration attorneys at Devore Law Group today for help getting into or remaining in the country legally.
Resource:
cbp.gov/border-security/ports-entry/overview#:~:text=Individuals%20seeking%20entry%20into%20the,officers%20who%20determine%20their%20admissibility.&text=The%20mission%20of%20the%20inspections,the%20illegal%20entry%20of%20aliens