Undocumented Immigrants Gaining Rights to Obtain Driver's Licenses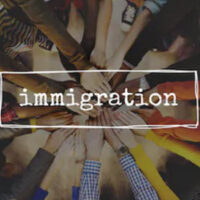 It has often been said that the right to drive is a privilege, not a right. That's why you can have your driver's license taken away in some cases for failure to abide by court orders, to pay child support, or for other reasons, depending on what state you live in.
Many undocumented immigrants find it difficult to get a driver's license, either because the state they are in won't issue one to them, or simply out of (understandable) fear of presenting themselves to a government office to get a license. Some states, however, understanding that the need to be mobile is essential to getting legal help, and earning a living, are making it easier for immigrants to get a driver's license.
States Allowing Immigrants to Get Licenses
There are currently 13 states (with New Jersey set to possibly become the 14th) that allow undocumented immigrants to get driver's licenses. Florida is not yet one of the states.
Many of the states that give driver's licenses to immigrants cite the essential public safety function that requiring driver's license serves. The states also grant licenses because mobile immigrants are also immigrants that buy cars, get insurance, and thus contribute to each states' economies. Some states have conducted studies showing that insurance companies save money, as do non-immigrant drivers, when immigrants are allowed to obtain licenses.
In most states, immigrants must show a Social Security number, but can also show a verification letter that they do not have a Social Security number. They also need to show some proof of residence in the state where they are applying for their residence.
Licenses Are Not Standard
The license for undocumented immigrants are usually a different color than standard licenses, because standard licenses are also used for official and government purposes, whereas the licenses obtained by undocumented immigrants would only grant them the permission to drive.
In many of the states where getting a license is legal, there is no word yet on whether immigration officials will be waiting at motor vehicle offices for undocumented immigrants, and thus there is still concern over whether it is safe for those looking for a license to present themselves to a government office.
There has been some pushback to the driver's license laws. In many states, clerks of courts have sued, but those lawsuits have been mostly unsuccessful. It is unlikely that the federal government could do much to restrict states, because the issuance of drivers' licenses is an area where each state has the right to set its own laws and guidelines.
Make sure your immigration attorneys can help you in any area you need when it comes to  immigration law. Contact the Palm Beach County immigration attorneys at Devore Law Group to help you with your immigration questions.
Resource:
ncsl.org/research/immigration/states-offering-driver-s-licenses-to-immigrants.aspx
https://www.devorelawgroup.com/proposed-law-could-help-immigrants-working-in-agriculture/