It's Easier Than You Think to Lose Your Green Card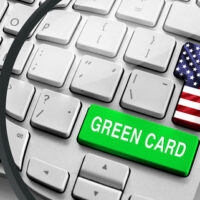 So you've gone through the process, completed your application, and you are legally in the country under one of a number of Green Card opportunities. Congratulations. You are on the path to permanent citizenship. That is, unless you do something to lose your green card and face deportation. Before you think that could never happen to you, you should be aware of common mistakes that green card holders often make.
Failing to Declare Taxes
Yes, many people fail to declare income to the authorities for tax purposes. For most, the penalty will be payback of what is owed, with serious interest. However, a green card holder can lose the green card for not declaring the proper income to the Internal Revenue Service.
And while you are filling out those tax returns, make sure you watch which boxes you check. Declaring yourself as a "nonimmigrant" on your tax returns can also jeopardize your legal status in the country.
Leaving the Country
Immigration can consider your green card abandoned, and cancel your green card for any stay abroad that lasts more than a year. If and when you travel overseas, you will need to have proof that the trip is for a short term visit only. The same thing is true (cancellation of your green card)  if you become a resident in another country. The cancellation is automatic, under any of these circumstances.
If you do end up losing your Green Card because you are overseas for too long, you will need special permission (a re-entry permit) to return to America. However, even if you do obtain a re-entry permit, you still cannot be abroad for more than 2 years. After that point, you would have to obtain a returning resident visa.
If you know in advance that you will be out of the country for more than a year, you can apply for the re-entry permit in advance.
Selective Service Registration
Male immigrants between 18-25 must register with the selective service within 30 days of entering the country. That includes all immigrants, including asylum seekers, undocumented immigrants, refugees or naturalized citizens.
Selective service is not registering with the armed services. However, it is registration to be drafted and serve in the armed forces, in the unlikely occasion that there is ever a draft. Even if an immigrant is drafted, he or she may still be exempt from service—for example any non-citizens in the US for less than a year cannot be drafted, and many countries have agreements with the US that exempt their citizens. Even if you are or would be exempt, you still must register for selective service.
Voluntary Surrender
You can also voluntarily surrender your Green Card. This is most often done by those looking to avoid paying taxes. You should always consult with an immigration attorney before signing a Form I-407, the voluntary surrender application.
Contact the Palm Beach County immigration attorneys at Devore Law Group to make sure you don't run into immigration problems.
Resources:
sss.gov/register/immigrants/
uscis.gov/sites/default/files/USCIS/Resources/B5en.pdf
https://www.devorelawgroup.com/families-of-immigrant-doctors-treating-covid-patients-risk-deportation/