How To Prepare For Your US Immigration Interview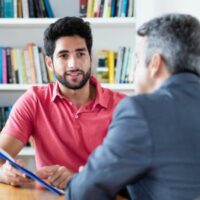 If you're approaching the US immigration process, you may need to go through an immigration interview. This can be a daunting prospect for many prospective immigrants, and it's important to prepare for this step in a confident, efficient manner. With the right preparation, you can learn what questions to expect, how to present yourself, and what not to say. In doing so, you can approach your immigration interview with the best possible chance of success.
If you're serious about doing well during your immigration interview, you might want to get in touch with a qualified, experienced immigration attorney in Palm Beach County. These legal professionals know exactly what to expect from an immigration interview, and they can help you prepare in the best way possible. Not only that, but they can assist you with virtually every other aspect of the immigration process – including the considerable paperwork. 
When is an Immigration Interview Required? 
Most visa applicants are required to attend an interview at a US consulate. That being said, there are a few exceptions. It is possible to waive your interview requirement if you have a clean immigration record and you're pursuing the same type of visa for which you have previously applied. In addition, applicants under the age of 14 and above the age of 80 are generally not required to schedule an interview.
In December of 2021, the Department of Homeland Security announced that in-person interview requirements had been temporarily waived for some nonimmigrant visas. In order to qualify for this waiver, you must have been previously issued another visa. In addition, you cannot have been denied a visa. However, you may qualify if you're a first-time applicant for H-1, H-4, L, O, P, or Q visas.
How to Have a Successful Interview 
The first step to a successful interview is understanding the limitations of the visa you're applying for. If you're applying for a visa that only allows you to stay in the United States for a specific period of time, don't imply or state that you will be staying in the country for an extended period. If your visa would allow you to stay in the country to pursue work or school, don't imply that you're actually coming to the United States for a different purpose entirely.
Another important step is to speak in English. Don't assume that the interview will be conducted in your first language, and try to study beforehand. If you're coming to the United States to study English, try to express how this will be useful to you. On that note, it's important to speak for yourself during the interview. Don't bring people with you who will speak on your behalf, such as parents or other family members. It's important that you express yourself clearly with no questions about your true motives. 
Enlist the Help of a Qualified Attorney Today 
For help from a skilled Palm Beach County immigration lawyer, contact the Devore Law Group. We have helped numerous immigrants approach this process in a confident, efficient manner. Although an immigration interview can seem like a daunting prospect, you have every chance of success if you prepare correctly. Book your consultation today, and you can take your first steps towards a brand new life in the United States of America.
Source:
american.edu/ocl/isss/visa-interview-tips.cfm