How Might the Election Change Immigration Policy in the United States?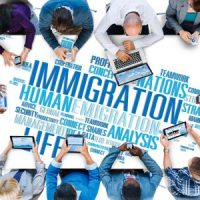 Although the US Presidential Election is still far away, campaigns are starting to heat up – and immigration has become a key issue for both major parties. This should come as no surprise, as the United States has been struggling with immigration-related issues for many years now. Regardless of which party you support, it is important to understand how the outcome of the election might affect your immigration plans in the future. This is particularly true if you plan to relocate to the United States within the next few years.
Former President Trump Releases Immigration Plan 
As part of the runup to the 2024 elections, former President Trump has released a new immigration plan. It is not clear whether all of the various elements of this plan will be implemented if he wins, but the policy is clearly a marked departure from what we have seen in the past.
One notable plan involves creating a naval blockade in Latin American waters to block drug shipments. Another part of the policy involves classifying drug cartel members as "unlawful enemy combatants," giving the military the legal authority to target these individuals – even within Mexico. The border wall would be continued and finished, and border barriers in Texas would be extended further.
For prospective migrants, there are other more relevant aspects of this plan. The "Remain in Mexico" policy would be immediately reinstated, and Title 42 might also return. But perhaps the most notable element of this policy involves restrictions for immigrants with certain ideologies. One point that raised eyebrows was a new screening system that would reject people who hold communist or Marxist viewpoints.
One change that may affect numerous people is the end of birthright citizenship. In addition, Americans can expect faster deportations and more draconian enforcement of immigration laws in general.
Finally, those trying to enter the United States may need to be very careful about their social media accounts. A new Trump policy may allow border officials to examine your social media activities to determine whether you should be allowed to enter the nation.
What Happens if Biden Stays in Office? 
First of all, it is not actually clear whether Biden will run again. If he steps aside, another Democratic candidate will need to take his place – and California Governor Newsom is a name that has been suggested. However, immigrants should not expect an extremely progressive immigration policy from the Democratic party in 2024 – regardless of who runs. Numerous commentators have argued that Biden's approach to immigration has been quite conservative during his term – and this may continue post 2024 should the same party stay in power.
Where Can I Find a Qualified, Experienced Immigration Attorney in Palm Beach County? 
If you've been searching for a qualified, experienced immigration attorney in Palm Beach County, look no further than the Devore Law Group. Over the years, we have helped numerous prospective immigrants create appropriate plans as they prepare to settle in the United States. With the right legal assistance, it shouldn't matter which party is in power. There are always strategies you can use to overcome legal barriers to immigration, so book your consultation today to get started.
Sources: 
fivethirtyeight.com/features/biden-is-moving-right-on-immigration-will-that-hurt-him-in-2024/
axios.com/2023/08/21/trump-immigration-border-mexico-cartels-2024-election