Fiance Visas, and Getting One if Your Marriage Doesn't Happen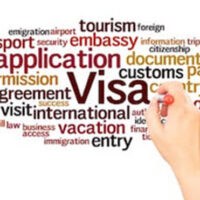 We often hear about marriage visas, and discuss how getting married to a U.S. citizen can provide a path to legally coming into, or remaining, in the United States. However, the marriage visa is for those who are already married. The K-1 visa is for those who anticipate getting married, hence its name, often called the "fiancé visa."
One benefit of a K-1 visa is that if your spouse is overseas, he or she can enter the country even before the marriage. The K-1 visa requires that the immigrant and the U.S. citizen anticipate being married within 90 days of the immigrant's arrival.
Getting the Fiance Visa
In order to qualify for the fiancé visa, in addition to actually being engaged to a citizen of the U.S., the applicant must also demonstrate that he or she has never legally lived in the United States, that the applicant lives outside the united states, and that the couple looking to be married has actually met, in person, at least one time in the previous two years. The United States citizen-fiancé must also have no history of sex crimes.
As long as the proper paperwork is filed by the U.S. citizen (usually, an I-130 petition), the immigrant fiancé can remain in the country while the application is being considered.
What if the U.S. Citizen Withdraws the Application?
The law even protects immigrant fiancés who have permission, or the application withdrawn by their U.S. citizen-fiancé. Because the U.S. citizen-fiancé files the paperwork, it is possible for angry or vindictive potential spouses to withdraw their application, thus leaving the immigrant-fiancé in limbo, and at risk of deportation.
However, the law protects the immigrant-fiancé from this kind of situation, particularly where domestic violence is concerned, under the Violence Against Women Act. The law allows green card applicants to get their green card, even if a fiancé or marriage Visa petition is withdrawn, and even if you get divorced before your marriage visa is approved. This is called a self-petition.
The applicant for a self-petition must show that they are of "good moral character," and that their marriage—or the marriage they initially planned to complete or remain in—was legitimate, and not done just to gain entry into the country. Petitioners also must show they are victims of battery or other cruelty, and that the abuse occurred in the United States (with certain exceptions).
Children of abusers can also file a petition, and can also be allowed to remain here even if the children were not direct victims of abuse.
What is Abuse?
The law is broad when it comes to abuse. Abuse does not necessarily have to be physical abuse. In order to self-petition, abuse is also defined as threats, or psychological abuse. Spouses who may be concerned should save text messages, voicemails, or other evidence of verbal or psychological abuse.
If you are planning to get married, and have immigration concerns, we can help. Contact the Palm Beach County immigration attorneys at Devore Law Group to help you with your immigration questions and problems.
Resources:
thehotline.org/resources/vawa/
uscis.gov/family/family-of-us-citizens/visas-for-fiancees-of-us-citizens