Asylum Process To Speed Up…But Is That A Good Thing?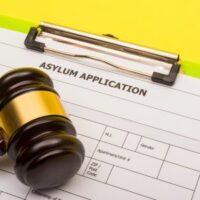 As more immigrants try to come into the United States, the President is trying to speed up the immigration process. The result will, hopefully, be a more humane immigration policy. But not all agree that will be the end result.
Asylum Process Affected
The streamlined process will mostly apply to those seeking asylum. Asylum seekers come to America seeking protection from persecution, violence, or unrest in their home countries. As such, they are often seen as the most needy and desperate of immigrants.
The President has announced that the process for applying for asylum and being granted (or denied) will now be much faster. The new changes will now allow asylum officers to make decisions on asylum, therefore bypassing the court system, which, because of backlogs, can take years.
The government also will establish standards that asylum officers will use, so that the process is not overly subjective, and so that the U.S.'s standards are in line with international asylum standards.
Of course, asylum seekers do have their right to their day in court, and when that happens, the system will be faster because the government is committing 100 new immigration court judges to be hired.
Expedited Removal Causes Concern
If someone doesn't qualify for asylum, they will be subject to what is known as expedited removal which allows for an immigrant to be deported without a court hearing. But there isn't a lot of guidance right now as to how that will be carried out, nor how, or when, someone could appeal a decision before an immigration judge should the immigrant so choose.
And some have concerns that this could create a "rocket docket" situation, where numerous cases are heard, with each being given minimal time to build a case or make an argument before a judge. Many judges are being instructed to decide immigration cases in 300 days or less. That could be insufficient time to gather evidence, much of which is often located in foreign countries.
Money and Resources
Because of the expedited processes, many are also concerned that immigration resources will be spent on those with new legal problems, who are subject to the expedited processes, leaving others' cases to go on even longer. The expedited process could make it even harder for people to find immigration lawyers, as many will be occupied with quickly moving cases.
The President's changes aren't limited to asylum seekers. The government announced it would provide more assistance at the border, strengthen operations that combat smuggling, and it is dedicating $15 million to represent immigrants who can't otherwise afford attorneys.
The government is also betting on help overseas, reducing the number of immigrants that come into the country. For example, the government is committing money to help displaced peoples in central American countries like Honduras and El Salvador, and will establish migration centers in foreign countries.
There are always changes in immigration law. Contact the Palm Beach County immigration attorneys at Devore Law Group today to help you understand the immigration process.
Resources:
cnbc.com/2021/07/27/biden-plans-to-speed-up-asylum-processing-and-deportations-at-the-border-.html
whitehouse.gov/briefing-room/statements-releases/2021/07/27/fact-sheet-the-biden-administration-blueprint-for-a-fair-orderly-and-humane-immigration-system/