You Need To Watch Out For This Scam If You're An Immigrant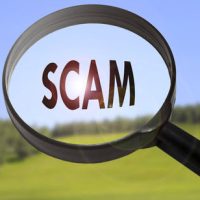 Immigrants are some of the most vulnerable people in the United States. When someone wants nothing more than to settle in America and start a new life, it becomes very easy to take advantage of them in a number of different ways. Human traffickers often take advantage of these immigrants, and in some cases it can lead to tragic mass-death incidents like the semi-truck suffocation in Texas. It can also lead to immigrant workers having their passports confiscated and being forced to work against their will. Today, a new scam has emerged that immigrants definitely need to be aware of.
If you're struggling with immigration-related issues, you should get in touch with a qualified, experienced immigration attorney at your earliest convenience. If something doesn't feel quite right, think twice before taking action and consult with your lawyer. These legal professionals can help you fight for your rights and pursue the immigration process in the most confident, genuine manner possible. Remember, it always makes sense to book your consultation as soon as possible.
FTC Warns of New Scam Targeting Immigrants 
On July 14th, it was reported that the FTC had warned of a new scam targeting immigrants. This scam apparently revolves around fraudsters impersonating US immigration officers. This type of scam is rampant right now, as just last month a similar scam involved people impersonating police officers.
The goal of these fraudsters is to steal money and personal information. The scam artists will likely attempt to impersonate ICE or USCIS officers. It begins with a phone call or email that usually states the victims have violated some kind of immigration law. Often, the scammers demand some kind of payment for an immigration bond or unpaid fee.
What follows is a threat to have the victim deported if they do not comply. They also state that there is a time limit associated with this threat, which means that victims feel pressured to simply hand over the cash without talking it over with another party first.
The FTC has reminded immigrants of a few important facts. First of all, ICE and USCIS officials will never call you without warning with demands for money. They also never ask for your personal details, such as your date of birth or your bank account number.
In addition, these scam artists have very sophisticated caller ID technology that makes it seem like they're calling from a trusted number. Even if the number matches the official numbers listed on the ICE website, it's important not to automatically trust it.
Enlist the Help of a Qualified Attorney Today 
If you've been searching for a Palm Beach County immigration attorney, look no further than Devore Law Group. Over the years, we have been helping numerous immigrants settle in the United States and start new lives. We know that navigating your way through scams and endless bureaucratic steps isn't always easy, but you're not alone in this journey. Reach out today, book your consultation, and begin the immigration process with your best foot forward.
Sources: 
cbc.ca/news/world/truck-deaths-migrants-texas-1.6503733
consumeraffairs.com/news/ftc-warns-of-scammers-impersonating-us-immigration-officers-071422.html