What is the Naturalization Test?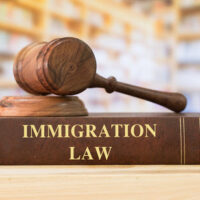 Online and in social media, there is an abundance of "naturalization tests," a word that people use to describe tests that immigrants must take as a part of becoming a naturalized citizen of the United States. Some of these tests include questions on a grade school level, and some have questions that even an educated lifelong U.S. Citizen wouldn't know. What is the naturalization test?
The Naturalization Test Questions
The test administered by the government is intended to test prospective citizens' knowledge of civics, history and democratic principles. Everything from geography to civics is tested. The U.S. Citizenship and Immigration Services (USCIS) chooses 10 out of a bank of 100 questions that you can use to test your knowledge. The questions are given orally, and although the sample questions have multiple choice options, the actual test is not multiple choice.
There is also an English test which will test your knowledge of the English language. If you are over the age of 50 and have lived in the United States for 20 years or more, you are exempt from the English test. Regardless of whether you are exempt from the English test, you do have a right to take the oral civics part of the test in your native language.
If you have a physical or mental disability (such as certain learning disabilities or mental incapacity), you may be excused from taking the test, although there are forms that must be filled out and approved before meeting this exemption.
If you fail the civics/history test, you will only be given one chance to take it again. However, in your makeup test, you do not have to retake the entire test. You are only retested on the questions that you missed the first time. If applicants fail the second time, they will still remain permanent residents, but will have to start the application process again (along with repaying all the fees) for naturalization.
The Naturalization Process
Remember that the naturalization test is just one part of becoming a citizen. Applicants must still be eligible for naturalization.
The naturalization process requires that you have been a legal resident of the U.S. for 5 years, but that number is lowered to 3 years if you are married to a citizen of the U.S. Of course, being legally inside the U.S. will usually be by having a valid green card, so anybody looking to naturalize should start with a green card application.
You must demonstrate good character, which can include not having been convicted of any major crimes, and not being delinquent with any child support or civil court orders. Remember that some crimes will not subject you to deportation, but they could disqualify you from becoming a citizen.
Remember that there are often exceptions to the process, procedures and timeline for naturalization such as in cases of spouses of abusers, those seeking asylum, or those of advanced age.
Make sure you have an immigration attorney during the process of applying for naturalization. Contact the Palm Beach County immigration attorneys at Devore Law Group to help you with your immigration questions.
Resource:
uscis.gov/sites/default/files/USCIS/Office%20of%20Citizenship/Citizenship%20Resource%20Center%20Site/Publications/100q.pdf
https://www.devorelawgroup.com/immigration-officials-are-asking-about-applicants-social-media-accounts/