What Is Asylum?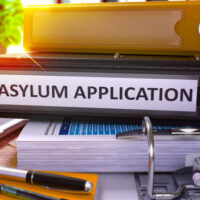 In the world of immigration, we often talk of people who have come to this country seeking work, jobs, money, opportunity or to be with family. We do not often discuss those who come to this country for what is perhaps the most serious reason: to avoid persecution, prosecution, or even death, in their home country.
These are the immigrants who are seeking asylum. America has always been a beacon of help to refugees coming here to avoid life threatening conditions in other countries. The process of admitting immigrants into America for this reason is called asylum.
Asylum and Refugee Status
A refugee and asylum-seeker are similar in the reason why they come to America. Asylum status (and recognition as a refugee under international law) is for those who are fleeing persecution on the basis of race, religion, nationality or their political or social views or status.
Asylum is the legal status that is granted to someone who already qualifies as a refugee under international law. The request for asylum can only be made once someone is within the borders of the United States. An application for asylum must be made within one year of an applicant's entry into the country.
Asylum can be affirmatively requested by a refugee, or can be used as a defense to removal proceedings that are instituted by the government. Unfortunately, no attorney is provided to applicants who cannot afford one.
The Asylum Process
The process to be granted asylum can take months or even years. In some cases, delays have stretched as long as four years. Applicants can remain in this country while their application is pending, however, they do not get certain social services and are not allowed to immediately work in the United States.
By law, those waiting on a determination of asylum have a right to remain in the country. However, the government has taken the position that applicants can be detained while waiting for the results of their applications. This has begun controversy over whether those detained have a right to detention hearings.
In some cases, refugees (noncitizens) may present themselves to border officials at a U.S. border, seeking asylum. Expedited removal proceedings (a faster process to deport someone) may be instituted against the asylee. Under international law, the asylee can fight these expedited proceedings by showing that there is a credible fear of prosecution, torture, injury or death if they are returned to their home country.
Those seeking asylum do not have an easy road. In many cases, those with what should be clear paths to refugee status, have been turned back to their own country, only to face tragedy.
Granting of Asylum
If asylum is granted, the asylee can work, travel abroad, receive a social security number, and even bring certain family members to the United States. After one year, the asylee can petition to be a permanent resident (green card), and after that, the asylee must wait four years to apply for permanent citizenship.
Be safe and protect yourself if you face deportation. Contact the Palm Beach County immigration attorneys at Devore Law Group to help you with your immigration questions.
https://www.devorelawgroup.com/citizenship-denied-to-child-of-same-sex-couple/