It's Business as Usual in Immigration Courts During the Pandemic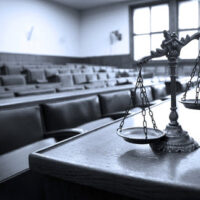 The coronavirus pandemic that has shut down most of the United States and the world, has put a halt to most of the country's basic, core functions. Courts, businesses, social services, and numerous government offices have been shuttered in the name of public safety. There is, however, one place where you would think that everything is business-as-usual: Our nation's immigration courts.
No Guidelines for Immigration Courts
Yes, in a time where "social distancing" is of paramount concern for the safety of the nation and its citizens, the country has not issued guidelines or restrictions when it comes to the functioning of immigration courts. Because the government has not extended any deadlines when it comes to immigration applications, hearings, or trials, the immigration courts must function as they normally would.
In a lawsuit brought against the government to force them to implement safety measures in immigration courts, and to force the government to implement uniform guidance to the federal districts, advocates asked that immigrants be excused from showing up to any court hearings that are held. The government argued that the lawsuit was just an excuse to try to shut down immigration courts. The Court refused to compel the government to make any changes to immigration courts or immigration policies.
Voluntary Postponements
Putting off hearings voluntarily is simply not possible, both because of the refusal to extend immigration law deadlines, but because the backlog in the country's immigration courts often means waiting months, even years, for a hearing. The message to not just immigrants, but their lawyers, and the judges, is to risk getting sick, or get deported.
The Risks of Continued Operations
That means that the crowded immigration courts continue to function as usual. What is most concerning is that the people who are in those courts, who are often very poor, or sick, or who may be deported back to countries with no healthcare system, are now the ones most at risk of contracting the virus.
The uncertainty of an immigrant's legal status as he or she awaits a  hearing or trial can be not only traumatic and stressful, but also dangerous.
There are stories of immigrants who are avoiding seeking needed medical care, for fear that they will be found, arrested or deported at the health care clinics or hospitals. This is despite the fact that the government previously said that it will refrain from ICE raids or similar immigration enforcement actions at hospitals during the coronavirus crisis.
Detention centers, where many immigrants await due process hearings, are not equipped to deal with social isolation. Many are concerned that a wave of the coronavirus in the close quarters of these centers could turn them into death camps.
Don't wait to get help if you have an immigration law problem, or if you are seeking to become a citizen or obtain an immigration visa. Contact the Palm Beach County immigration attorneys at Devore Law Group to help you with your immigration questions.
Resource:
opb.org/news/article/immigration-court-covid-19-coronavirus/
https://www.devorelawgroup.com/government-seeks-to-curtail-birth-tourism/