Government Gets Tougher on Immigrants with Life Threatening Illnesses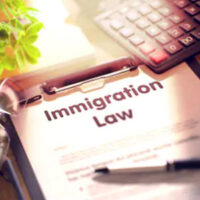 Very quietly, the government is second guessing a prior decision to start deporting immigrants who are sick, ill or diseased. It was a move that was largely criticized as being inhumane when it was first announced.
Rules on Immigrants with Life Threatening Illness
The normal process allows immigrants in poor health (usually only those with life-threatening diseases) to request a "stay" on being deported. The good thing about the program was that if granted, the stay was automatic (although not permanent), and immigrants could apply at any time.
That meant that instead of fighting deportation, going through immigration court, losing an immigration court and then asking for a reprieve due to health, the reprieve could just be granted.
The reprieve or stay does not allow immigrants to stay here permanently, nor does it provide a path to citizenship. It just allows those receiving treatment to stay temporarily. In some cases, caregivers (such as parents of a minor child) can also remain here.
Government Changes its Mind
However, now it seems that the government has changed its mind. Instead of getting a reprieve immediately, applicants will now have to go through the process of fighting deportation first. The process essentially makes the request to remain in the country for health reasons kind of a "hail mary," last-ditch attempt, after all other legal avenues have been exhausted.
Many immigrants may be in the middle of life-saving treatments, only available in the United States, while they are being deported. This includes immigrant families that may have children in hospitals. Many have called being deported while in the middle of treatment the same as a "death sentence."
There are stories of children being deported while waiting or heart surgeries, caregivers of paralyzed children being deported, or children getting deported while undergoing genetic testing for life threatening illnesses.
Officially say given the relatively small number of requests made under the program (about 1,000) yearly, the program, which requires staff to review and process applications, does not justify the costs.
The change does not mean that those with life threatening illnesses cannot apply for, and receive, a temporary stay on deportation. It just makes the process harder, longer, more expensive, and puts applications in the hands of ICE, a department that also carries out deportations, creating a situation where many may be afraid to apply for relief at all.
Another Change of Heart
However, there may be some good news. In what could be a change of course, the government has now said that they may process some applications from those undergoing life saving care. However, this modest change of heart will only apply to those who already have applications in—it will not apply to any new applicants.
Customs has said that the deportation announcements would not apply to anyone who had applications pending as of August 7, 2019.
Are you facing deportation or have any other type of immigration problem? Contact the Palm Beach County immigration attorneys at Devore Law Group to help you with your immigration questions.
Resource:
cbsnews.com/news/medical-deferred-action-trump-administration-will-process-some-deferred-deportation-requests-from-sick-immigrants/
time.com/5662256/trump-immigration-deportation-medical-care/