What is Marriage Fraud?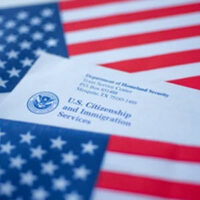 Many people already know that in keeping with the policy of keeping families together, it is easier to get into, and remain inside the country, by marriage. Unfortunately, many people take advantage of this policy, and if you choose to be one of them, you could end up being accused of marriage fraud (which actually is immigration fraud).
What is Marriage Fraud?
Marriage fraud is a marriage not done out of love, but rather, out of a desire to evade immigration laws, and allow one of the spouses to remain in the country. Sometimes one spouse is innocent and has no idea that the other spouse is just marrying them for immigration purposes, but other times both spouses are aware of the plan.
Sometimes, money is exchanged between the parties, to convince the citizen spouse to marry the non-citizen spouse. Marrying someone as a favor, or for any external reason that has nothing to do with love, is also marriage fraud.
Good Faith Marriage is Required
Immigration law requires that parties demonstrate that their marriage is genuine and made in good faith. The parties will have to submit to immigration proof of the genuineness of their relationship and their feelings. That can include evidence that the couple shares a home, resides together, pays bills for and on behalf of one another, has kids together, or that they commingle, and share property—all typical hallmarks of a real romantic relationship.
On the other hand, factors that will tend to get immigration officials suspicious, include whether there is a large age difference between spouses, whether the spouses are different religions or speak different languages, or whether the parties opted to marry after there was an immigration problem.
The Interview
The citizen spouse will have to attend the immigration interview, and be prepared to answer questions about the relationship. The officer will determine whether the relationship appears to be legitimate or not (as subjective as that sounds). In some cases, the spouses may be separated, to ensure that their answers match up. The interviewer may do things like compare keys, to make sure both spouse's keys are the same, or make a surprise home visit.
Conditional Residency
To keep people from getting married on the fly just for immigration reasons, there is a conditional residency requirement.
If you have been married for less than two years, and the non-citizen becomes a permanent resident, the non-citizen is actually classified as a conditional resident. After the two years of marriage, paperwork will need to be filed, removing the conditional nature of your immigration status.
If the legitimacy of your marriage is challenged, and your immigration petition is denied, you will have the chance to appeal. Otherwise, not only will your petition be denied, but you could be charged with criminal penalties.
Contact the Palm Beach County immigration attorneys at Devore Law Group to help you with any problems you may have in your immigration law case.
Resource:
ice.gov/sites/default/files/documents/Document/2016/marriageFraudBrochure.pdf