Luciana C. Ugarte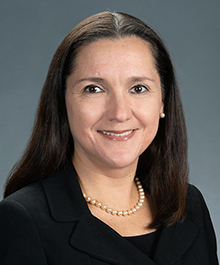 LUCIANA C. UGARTE is an attorney practicing immigration and nationality law with the Devore Law Group, which has offices in West Palm Beach (Palm Beach Gardens), Florida. Ms. Ugarte received a Juris Doctor Degree from Universidad de Lima, in Lima, Peru in 2000, an LL.M in American Law from Boston University in Boston, Massachusetts in 2004 and a Juris Doctor Degree from Nova Southeastern University in Fort Lauderdale, Florida in 2007. She was admitted to the Florida Bar in 2007 and practiced civil litigation for twelve years in South Florida. She joined the Devore Law Group in April 2019.
Ms. Ugarte's practice includes a broad range of immigration and nationality matters, including complex matters involving naturalization and citizenship, family-based immigrant visas, waivers of inadmissibility and relief from removal. Additionally, she handles business immigration matters including complex treaty trader and investor visa (E-1/E-2) applications, athletes (P-1) and aliens of extraordinary ability (O-1).
Ms. Ugarte has experience representing clients before United States Citizenship and Immigration Services (USCIS) and United States Immigration and Customs Enforcement (ICE). She also litigates immigration cases before Immigration and Federal Courts and is admitted to practice before the U.S. District Court for the Southern District of Florida.
Having gone through the immigration and naturalization process herself, Ms. Ugarte has a first-hand appreciation for the issues faced by her clients and the personal consequences of her work.
Ms. Ugarte is fluent in Spanish and proficient in Portuguese. She is a member of The Florida Bar, the American Immigration Lawyers Association (AILA) and the Florida Association of Women Lawyers (FAWL).