In a Pandemic Economy, Will Receiving Unemployment Count Against Applicants?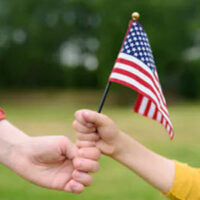 The government has gotten tough with the "public charge" rules when it comes to applications for visas or other immigration statuses. The highly controversial public charge rule has always been looked upon as a policy that mainly affects poorer, more in-need immigrants, but with the economy tanking because of COVID-19, there are new concerns over this public charge rule.
What is the Public Charge Rule?
The public charge rule merely allows the government to evaluate whether an applicant for citizenship or for a visa, will be a burden on the United States economy. The rule has been in place for a very long time, but each presidential administration has looked at different factors to see if an applicant will be a charge or burden on the economy.
It was recently announced that the government will look at anybody who takes any kind of public benefits, which could include food stamps, Medicaid, housing assistance, or welfare, as being a "burden," and thus, those people risk having their applications for visas or for citizenship denied.
What About the Pandemic Economy?
The problem facing many immigrants and applicants is that today, millions of people are forced to take unemployment due to the closing of so much of the economy. Are they a "public charge?" Does an immigrant that was at one point gainfully employed, but who now must apply for and take unemployment, risk being deported or having an application denied?
The good news is that unemployment alone will not affect an applicant's status, or his or her immigration-related applications or renewals. The government announced that it does not consider unemployment benefits to be a "public charge," but rather to be an "earned benefit."
The government also said that it will consider whether the receipt of any public benefits that are considered public charges, were brought on by the pandemic.
If an immigrant lives somewhere that a quarantine is or was in place, or somewhere that an employer was shut down or was unable to operate because of the pandemic, the government will not hold any public benefit taken by an immigrant against him or her. The applicant must submit a statement with his or her application, explaining how COVID-19 caused the applicant to need any public benefit that was taken.
Medical Benefits
In similarly good news, the government also announced that any medical benefit, even if it is paid through Medicaid or some other public or government program, won't be considered a "charge," if it is for the purpose of diagnoses or treatment of a communicative disease such as COVID-19. That includes any payments for the receipt of a vaccine, when and if one becomes available.
Get help with your immigration applications or renewals, and let us answer questions about whether your actions might affect your immigration status. Contact the Palm Beach County immigration attorneys at Devore Law Group to help you with your immigration questions and problems.
Resources:
asianjournal.com/usa/dateline-usa/medical-and-legal-experts-weigh-in-on-public-charge-in-the-covid-19-pandemic/
uscis.gov/green-card/green-card-processes-and-procedures/public-charge
https://www.devorelawgroup.com/ice-threatening-to-train-citizens-to-surveil-undocumented-immigrants/